"Skills Development and Opportunities for a Brighter Future".
That is the theme for the ongoing 'Career Fair 2022' organized by the Department of Labour on Nevis.  
Geared towards 4th and 5th form students in secondary school, the fair hopes to expose students to potential job opportunities and teach students to learn how to develop skills to become entrepreneurs and thereby future employers.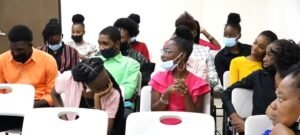 The Fair is divided into two segments: 1st, a number of presentations will be heard and 2nd, on-the-job exposure along with training, all of which are provided by participating business establishments.  
The fair will also be based on various skill sets, as well as roles and responsibilities in various work environments. 
It is being held at the Malcom Guishard Recreational Park at Pinney's until
Thursday, July 14th, 2022.
The office of the Department of Labour will remain closed to the public and will resume its daily operations on Friday, July 15th, 2022 from 8:00 a.m.