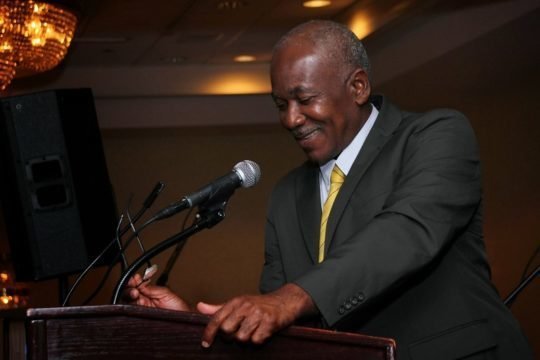 Evered Herbert also known as "WEBBO" hails from Mt.Lily Village, St.James Parish, Nevis.  But spent most of his formative years in Charlestown at Government Road and then at Craddock Road.  He attended the Charlestown Boys and later the Charlestown Secondary Schools.  He graduated from the Charlestown Secondary School in 1975.
An avid sportsman, he represented the Charlestown Secondary School, Nevis and the Leeward Islands Youth Cricket Teams.  And also provided commentary on all sports played on the Island including Cricket, Football, Netball and Athletics.
When Webbo graduated from CSS, he found temporary employment at a few government institutions including Customs and Treasury departments until he began teaching at the Gingerland High School.  After teaching at the GHS for a few years, he migrated to the BVIs and then to the USVs.  He attended the University Of The Virgin Islands, St.Thomas Campus, from where he graduated with a Bachelors Of Arts Degree in Accounting in 1987 with honors. At the commencement exercises  he delivered the remarks on behalf of his class of 1987.
In 1988 Webbo returned to Nevis to manage the newly opened Voice Of Nevis (VON) Radio Station which was instituted by his Uncle Merit Herbert with whom he had worked while he was in Tortola BVIs.  Webbo had no formal training in Radio Broadcasting, but had acquired good business acumen and his Uncle was convinced would accomplish the task.
The First big challenge came in 1989 when Hurricane  Hugo wreaked havoc on The Caribbean.  It proved to be an enormous challenge which was met by a young energetic staff and helpful tight knit community.  This, and the other challenging storms of the 1990s and early 2000s served to bring out the fortitude of Webbo and his team.
Along the 25 years journey, Webbo and VON Radio have received many awards and accolades including the Prestigious ECCUs Financial and Journalism Award in 2003/2004.
Sir Probyn Iniss former Governor of St.Kitts and Nevis on the 25th Anniversary of Von Radio said of Webbo…
"WHEN I THINK OF WEBBO I THINK OF THE VOICE OF REASON, AND THIS BECAME VERY, VERY CLEAR TO ME DURING THE LAST NEARLY TWO YEARS WHILE NEVIS WAS GOING THROUGH A VERY CHALLENGING PERIOD HAVING TO DO WITH THE NEVIS ISLAND ELECTION AND SO FORTH AND SO ON.  AND I FOUND THAT INSPITE OF THE PARTISANSHIP AND ALL OF THE EMOTIONS WHICH SUCH OCCASIONS UNDOUBTEDLY GENERATE, FOR ME WEBBO WAS THE VOICE OF REASON, AND NOBODY WHO WAS FAIR-MINDED COULD SAY THAT HE WAS ANYTHING OTHER THAN FAIR AND BALANCED.  AND THAT HE WANTED TO KEEP THINGS IN THE CORRECT PERSPECTIVE.  AND TO BE FRANK THAT IS THE ASPECT OF VON WHICH I CHOSE TO REMEMBER AND HIGHLIGHT".