The St. Kitts Health Promotion Unit's 'In Ya Kitchen' Initiative held its first Junior Top Chef Competition on Monday, May 30th, 2023.
The event was initiated in an effort to promote healthy cooking, especially for youths. Monday's event saw two persons namely: Devonte Judah-Edwards and Jahmoy Woodley compete by preparing a dish that was created to endorse healthy, quick and tasty cooking.
Mr. Edwards ended up victorious at the end of the event, gaining a total of 235 points with his dish "Ben's Pineapple bowl".

and the runner-up, Mr. Woodley closely followed with a total of 231 points with his dish, "Bubba's Rotolo".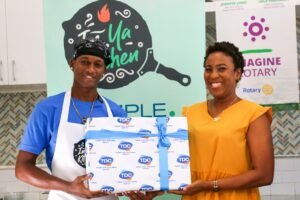 Edwards is now the first person to have taken a spot in the Top Chef Competition Finals. A number of competitions will continue in different zones of St. Kitts and Nevis and then the respective winners will compete in the finals later in September