Thursday May 18th, saw the execution of the Bank of Nevis Tourism Youth Congress 2023 that was organized by the Ministry of Tourism here on Nevis.
The event saw seven secondary school students engage in a prepared speech segment where they were able to choose from a number of topics provided by the Ministry along with a Mystery segment round where each participant was given limited time to think of a proper response to a question.
At the end of the event, it was Ms. Rucha Sharma from the Charlestown Secondary School who gained first place and the title of Junior Minister of Tourism.
Securing second place was Anthony Moving and third – Kemeaya Bailey both of the Gingerland Secondary School.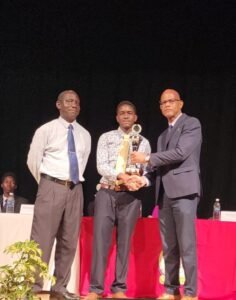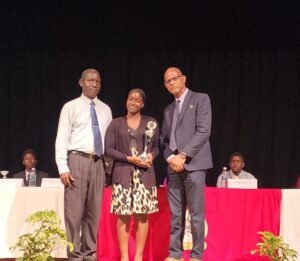 The other participants who received consolation prizes were Shamar Ottley of the Gingerland Secondary, Khaneecia Browne and Tinayeshe Chirima of the Nevis International Secondary School and Romany Hussain of Charlestown Secondary.
Present at the ceremony and offering numerous tokens to the students were CEO at the Bank of Nevis, Mr. Everette Martin and Permanent Secretary at the Ministry of Tourism, Mr. John Hanley