SKN's Prime Minister – Hon. Dr. Terrance Drew, is leading a delegation to the Republic of China (Taiwan) for a 4-day state visit. Prime Minister Drew and the delegation left the Federation on November 5th. It will be the Prime Minister's inaugural trip to Taiwan.
The Prime Minister's delegation includes Minister of Foreign Affairs – the Right Hon. Dr. Denzil Douglas, Premier of Nevis – Hon. Dr. Mark Brantley, Deputy Premier – Hon. Alexis Jeffers, Minister of Sustainable Development – Hon. Dr. Joyelle Clarke, Member of Parliament in the Nevis Island Assembly – Hon. Cleone Stapleton-Simmonds, Ambassador of ROC (Taiwan) – His Excellency Michael Chau-Horng Lin and others.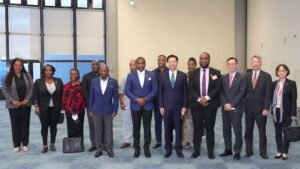 While in Taiwan, Prime Minister Dr. Drew and his delegation will have several engagements including a visit to the Taipei Nangang Exhibition Center, a visit to Taipei International Travel Fair and the Main Plaza of the National Performing Arts Center.
The Prime Minister and his delegation will wrap up their visit on November 10th, with a visit to Tapei Veterans General Hospital and the International Cooperation and Development Fund (ICDF). SKN and Taiwan have established diplomatic relations since 1983.
Meantime, as Dr. Drew and Mr. Brantley, are overseas on official duties, during their absence, the Hon. Dr. Geoffrey Hanley and the Hon. Eric Evelyn are serving as Acting Prime Minister of SKN and Premier of Nevis, respectively, until November 11th.