Vanessa Williams and Clint Smith have been named first female and male respectively after completing the Caribbean Wellness Day Walk on Saturday, September 10th.
The walk began at 5:30 a.m. at the Hamilton Villas situated at the Bottom of Cotton Ground, along the island's main road, through Charlestown ending at the Villa Grounds.
Other winners of the walk include: Youngest Participant – Miss. Aquila Douglas; Oldest Participant – Ms. Marian Browne and a new category which was introduced "The Largest Group" won by the TDC Group of Companies Limited – Nevis.
The Caribbean Wellness Day walk was hosted by the Health Promotion Unit (HPU).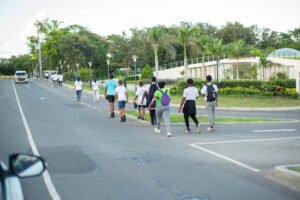 The Nevis HPU recently issued a statement of thanks to all participants and sponsors of the event.